Twinkle twinkle Legend Star, how I wonder what you are?
Are you broken? Are you lame?
Can you beat the meta game?
Twinkle twinkle Legend Star...
I'm kinda in love with Stars.
Without a single card with more than 2 crit, without a single

Soulguard

or draw engine, with just a single weapon, Stars can stand against the meta and practically wipe face. The first viable lockdown deck in the entire game. Rejoice, permissions players! Soon you'll be able to make everybody hate you again!
By the way, quick note, since all Star is also in Olympus as of now, all Olympus support will also work well with Stars. Which means Golden Lion of Nemea is basically a must.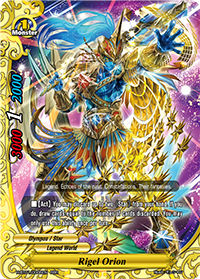 Get on my belt
Rigel Orion is a great example of what a staple card looks like for Stars. Instead of having high crit or high stats, Rigel has the ability to trade Star cards from your hand for more Star cards in your deck. Just drop the ones you don't need to grab live cards that you can use immediately. As an Act ability, Rigel can do this once every turn, so it's pretty good to let Rigel live. While Rigel isn't a plus like Shiden, Rigel doesn't cost

gauge

which might be a great thing. Also, you don't have to discard 2 cards every time. You can discard 1 Star to draw 1 card if that's all you need.
Rigel Orion is one of the many great Size 1 monsters applicable as a target for Starfall Night. Starfall Night is not only a great 1-for-1, but also has a Counter tag to allow for really diverse uses. For example, you can Starfall Night between attacks to grab a Size 1 shield. Or you can chain Starfall Night to an opponent's effect to guarantee it going off and getting the Size 1 on-play effect. Remember, Starfall Night only works on your opponent's turn, but since it's a Counter you can cast this literally anytime you want, from Draw to End phases.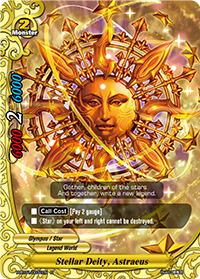 God my face is freaky
More Rigel segues. How do you protect Rigel turn after turn? One way is calling it to the side and calling Stellar Deity, Astraeus to the other side. Astraeus is costed like a normal Size 2, but costs

2 gauge

for its continuous effect. The continuous effect is pretty ridiculous: Stars on your left and right can't be destroyed. Ever. So that

2 gauge

not only pays for Astraeus's personal eternal

Soulguard

, but also for the eternal

Soulguard

of any Size 1 or lower monster on the opposite side. That's pretty impressive. Rigel Orion is safe. Since it only protects destruction, Astraeus and friends are still vulnerable to bounce and other field movement effects. But very few worlds have bounce abilities, the main one being Magic. Against practically everything else, Astraeus is literally unstoppable.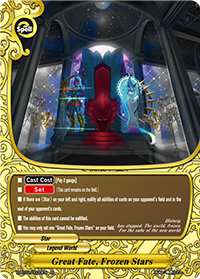 Your fate is sealed
With Astraeus on your right and Rigel on your left, it's time to set your final ace down. Great Fate, Frozen Stars is the first "Great Spell" in Legend World not named "Great Spell". But it certainly doesn't change the fact that it is indeed great. For

2 gauge

, you can completely nullify all abilities of every card in active play on your opponent's field, even in the soul. How's it feel like to play with cards that do nothing? you can ask your opponent. With

4 gauge

, you can instantaneously stop your opponent from doing anything at all, at least on the field. No

Soulguard

, no

Penetrate

, no

Move

, no

Double Attack

, no

Lifelink

(oh...), no Act abilities, no continuous abilities, no Set spells, just face-value stats and that's it. There's a few loopholes, of course. Bounce effects to remove Astraeus is the first, but you can always just destroy Great Fate with some kind of spell popper. Of course, this doesn't change the fact that Astraeus is still pretty broken in its own right. Think of Great Fate as something to stop your opponent from winning, and not to immediately help you win.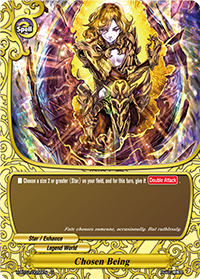 The Chosen One
With just the four cards mentioned, Stars already has some amazing synergy effects and cool combos. You can set Frozen Stars in advance and use Starfall Night to make the card live as a Counter. Rigel Orion allows you to drop extra Frozen Stars for cards that you can work with. And by playing this game of consistency and lock, Stars manages to align your path to victory pretty straightforwardly.
The rest of Stars is pretty easy to build. Taurus Aldebaran is a great alternative to Astraeus, free

Penetrate

with 5000/2 is pretty good. There's two additional Size 0s and two additional Size 1s, all well-weighted with stats worth running. We also get a Star weapon that allows you to attack with a monster in your center. And finally, a Star spell that grants

Double Attack

to a Size 2 or higher monster - so either Astraeus or Taurus. That just about auto-builds your deck. There's also a PR Size 0 that also kills your opponent's

gauge

, so that's going in too. You can also look at the Tarot Star cards released, both Size 1's can be situationally useful and better than what Size 1's we have in Legend. The healer especially, since

life

gain is valuable, but 7000 power is nothing to sneeze at either.
Speaking of important PRs, and one that I forgot to mention, but Schedar Cassiopeia is definitely an undisputed staple 4-of. She trades herself and 2 gauge to cycle two Star monsters Size 2 or smaller from your drop onto the field...one of which can be a copy of herself. If you already have an Astraeus (or just call one with her effect), she'll be invulnerable and be able to grab two more cards. Basically, she trades gauge really efficiently and allows you to maintain field at an incredible pace. With Cassiopeia and Lion available, you can grab cards you need from literally every zone at your disposal, so even "staple" cards like Astraeus and Rigel Orion don't have to be run at high copies. Especially Astraeus, since he's nigh unkillable, can be run safely at 1 alongside playsets of Lion and Cass.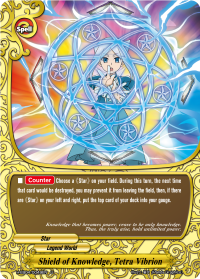 Knowledge is power
Old Astraeus combines forces with new Colossal Deity of Phantom Star, Astraeus to create a ticking time bomb for your opponent. Basically Phantom Astraeus deals 1 damage at the beginning of your main phase if you have Stars in the right and left. He also draws a card (what?) and keeps the lock engine going. Meanwhile, Old Astraeus keeps your Stars on the field. Your opponent will eventually lose after many turns of torture.
Tetra Vibrion is pretty cool because the new Astraeus is a Size 0. Meaning you can actually protect a Size 1 Star in the center pretty regularly without losing resources. You actually end up getting a lot of gauge in this deck so it's important to use both Symbel Gard and Oswira Gard to move gauge into card advantage.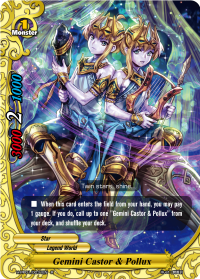 Rim Ram
I personally think Castor & Pollux is pretty amazing, especially in the early game. Not only do you get cards for cheap, but you also immediately turn on your lock with a single card, and earlier and cheaper than Cass lets you. I think the combination of Cassiopeia and the twins allows the Size 1 portion of Stars to be advantage-heavy and gives you access quicker to your lock, allowing your Size 2 monsters to do the heavy lifting.
- updated to H-BT04, CP01, H-EB04, H-TD02, H-PP01 -
All images used obtained from the official Bushiroad website and used here solely for reference purposes. Future Card Buddyfight!, logos, and respective content belong to Bushiroad. Large images belong to the Buddyfight! Wikia.