I've had more than one Buddyfighter tell me vehemently, "Weapons suck!" or some variation of that statement. It seems like the community is really divided as to whether these permanent pieces of equipment are blessings in disguise or noobtraps.
To be fair, I don't blame the people who scorn items given that Bushiroad has released some seriously crappy items (*cough cough Dragobrave). And weapons do involve a lot of risk for sometimes not-so-important rewards. But trust me when I say that weapons can be pure amazing.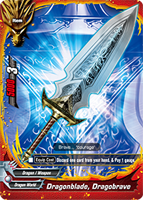 This weapon really sucks...
Remember the card advantage article and the field control articles I wrote? Remember what I said about attacks? Attacks generate advantage. I'm going to have you guys repeat this phrase until it gets ingrained into your souls (so you can

Soulguard

against Buddyfight stupidity). This is the fundamental foundation of Buddyfight, of why monsters are superior to spells, of why field control is so important, of why Bushiroad squeals in ecstasy every time a unit restands (I swear...). Attacks are amazing. You can't deny it.
How would you react if I told you you could have a monster that could not be targeted by attacks, could only be removed through a spell or ability, and could generate free advantage every single turn? Guess what? That monster is you! When you have a weapon, you're basically putting yourself out as an invincible monster. You sacrifice your
life
and make yourself an open target in order to exercise a stupendous amount of field presence and control. It's a tradeoff, and you have to make that tradeoff worth it.
Which ultimately means that you need to build for it and around it. A weapon-based deck needs to be just so, completely based on weapons. You're going to have to deal with an open center, you're going to have to deal with taking a lot, a LOT of damage. In exchange, you're going to be able to do some pretty sick things like calling a Size 3 to the side. Using weapons requires a totally different mindset that very few people are prepared to adopt. Most cardfighters are comfortable sitting behind their walls of monsters. Buddyfight gives you the option to ditch your throne and jump into the fray, and it wholly backs you up with the necessary support in the forms of monsters, impacts, and spells. Neither perspective is wrong, and both are successfully playable and, may I add, competitive.
The Weapon
Monsters...
The Decks